SPS Sea Salt 20kg/bag/bucket HZY006
SPS(Stone Coral) Sea Salt 20kg/bag/bucket HZY006 we can wholesale Sea Salt
info@aquaseasalt.com
+86-0532-83889306
Product Description
Item code: HZY006
Inner bag packing 20kg per bag, plastic transparent bag without printing ;

Outer bucket packing 20kg with 1 bag in a bucket.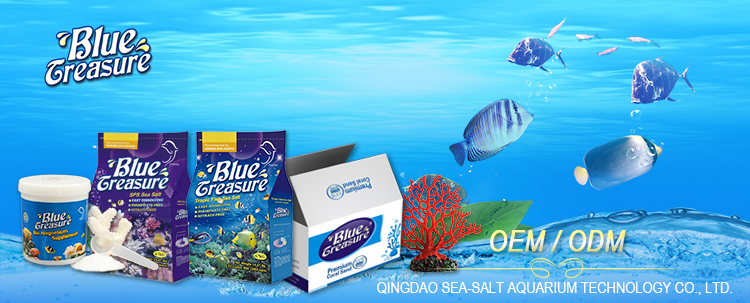 Blue Treasure SPS Sea Salt is further purified based on Blue Treasure Reef Sea Salt. The new formula of Blue Treasure SPS Sea Salt is specialize developed for the growth and breed of Small Polyp Stony SPS Coral Reefs.
Specially formulated with SPS required levels of calcium(Ca), magnesium(Mg), strontium(Sr) and other essential trace elements of natural sea water. Also, more Ca, Mg, K and other trace minerals are supplemented so that can keep the enough essential elements to SPS during keep and breeding. Only can meet the requirements of keeping and breeding of SPS through change the saltwater mixed by Blue Treasure Sea Salt.
The raw materials of SPS Sea Salt are selected from pure, food grade and contain all kinds of trace elements which found in nature seawater, as well as some other special vitamins and protective colloids. The sodium chlorid(NaCl)of Blue Treasure Salt is purified from pure, non-polution underground brine.
It is very rare for the underground brine sources in the world, only there are Bohai Bay and Huanghai Bay rich this kind of underground brine. In addition to this, the Blue Treasure Sea Salt get the formular after many experts research of Ocean University of China,since 1996 year.Blue Treasure Sea Salt take use of the good natural sources and scientific research condition to offer best quality sea salt to the world.
【Directions for ues】
Use 20 kg of Blue Treasure SPS Sea Salt mix with 150 gallon(570 Litres) of fresh water(RO water recommended) until the salt completely dissolved. At a temperature of 23-25℃/73-77℉, the specific gravity of the saltwater should range from 1.024 to 1.026.
A weekly, partial water change, replacing 10﹪ of the total water volume with saltwater prepared with Blue Treasure SPS Sea Salt, will help to maintain the water quality that your live marine organism need for good health.
You may also be interested in the following product(s)